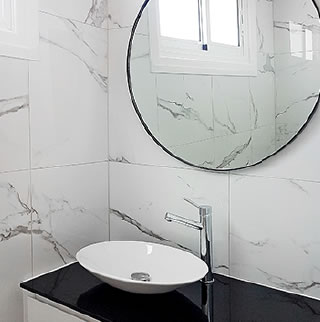 superior tiling skills, years of experience… and an appropriate adhesive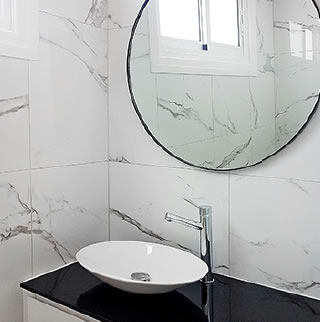 superior tiling skills, years of experience… and an appropriate adhesive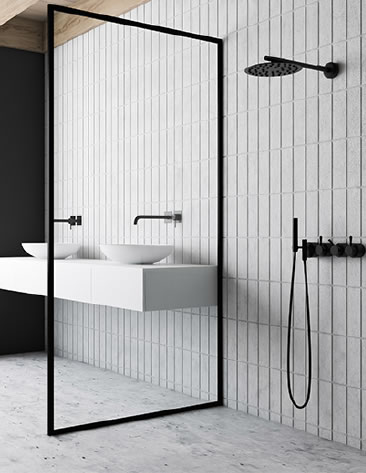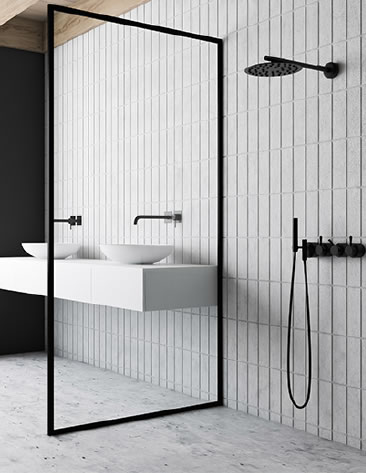 WHAT DO BRISBANE BATHROOM TILERS DO?
At its simplest, tilers cover surfaces with tiles to protect those surfaces from traffic and use, contain water and moisture from wet spaces, and to lift the aesthetic appeal and attraction of your bathroom space.
At NRA Tilers, we do more than show up on time, perform the work and disappear.
We aim to provide a superior tiling experience to every customer, including offering the following additional services:
HOW DO I CHOOSE A BATHROOM TILER BRISBANE?
AT NRA Tiling, we believe bathroom tilers should be selected:
firstly, by the quality of their work
secondly, by their reputation for service and delivery; and
thirdly/lastly, by their fee quote and costing.
That means you must do your research and seek references to shortlist a preferred set of tiling tradespersons before requesting prices for work and
products.
We recommend that once you have prepared your shortlist of preferred bathroom tilers, you issue a job specification for your tilers to consider and
request quotes and tenders based on those specifications for comparison.
If you are using an architect or builder for your build or renovation, they may be able to assist you with this process.
At NRA Tiling we service and work with architects, builders, developers and home owners / renovators all the time.
Our customers are always happy with our work and service, and so we are able to provide testimonials and references to new enquiries on request.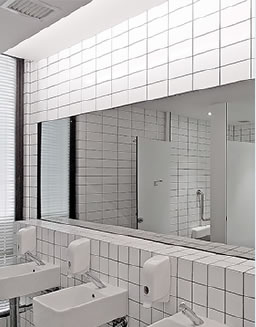 AS WE ALWAYS AIM TO EARN REFERRALS AND REPEAT WORK FROM OUR CUSTOMERS.
WE PROVIDE COMPETITIVE COSTINGS TO ALL OF OUR CURRENT AND POTENTIAL CUSTOMERS (BUT NOT AT THE EXPENSE OF DELIVERING GREAT QUALITY WORK, UPON WHICH OUR REPUTATION DEPENDS!
HOW MUCH SHOULD A BATHROOM TILER IN BRISBANE COST?
The cost of tiling a bathroom in Brisbane depends on a number of variables:
the condition and quality of the tiles – poor quality tiles usually require more work to cut and lay than high quality tiles
the size and number of tiles to be laid – large tiles can be laid more quickly than small tiles;
whether the tiles are meshed or solid-state – it can be more difficult to work with meshed (and thus flexible) tile grids than solid spaced tiles;
the number and shape of the walls and floors to be covered – curved surfaces are more difficult and take longer to tile than flat surfaces;
the type of glues and waterproofing agents used to set the tiles in place;
whether the bathroom tiler is being asked to work around other tradespersons in the same or nearby spaces.
Generally, a professionally qualified and experienced tiler will charge between $80 and $150 plus GST per hour to lay bathroom tiles in Brisbane.
You may however, be quoted a square metre rate, which can range between $60 to $120 plus GST per square meter. $60 plus GST per square meter is about the average for laying bathroom tiles.
Often, bathroom tilers in Brisbane who are in higher demand will charge more for their services.
At NRA Tiling, however, we always provide consistent pricing for our services and never exploit market conditions to justify a higher fee.
NRA TILING BRISBANE FAQ's
Tiling is not a complicated trade. But it is a unique skill to tile correctly, ensure it is water tight, ensure that the tiles are perfectly evenly and ensure the surface lasts through years of punishment from foot traffic, spilt drinks and food and of course weather. Don't risk doing it yourself, just call us we are "Exper tilers in Brisbane".