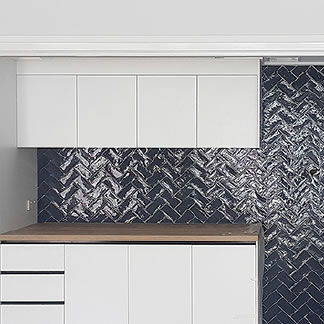 A quality outdoor tiler can turn your home and outdoor escape into a designer's dream getaway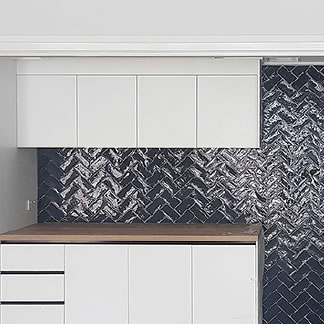 A quality outdoor tiler can turn your home and outdoor escape into a designer's dream getaway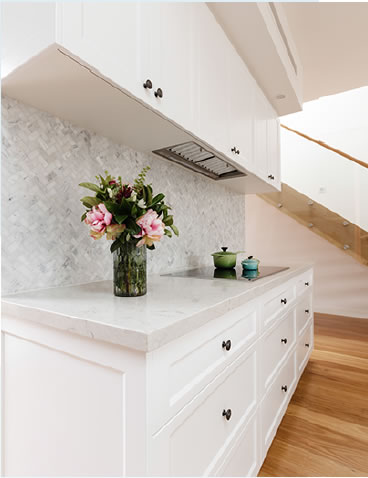 BENEFITS OF TILING YOUR BRISBANE KITCHEN
Tiles have been the preferred surface covering in kitchens for hundreds of years because they are stylish, functional and durable all at once.
Tiles come in every shape and size, every colour, gloss or matt, textured or flat – nothing beats a tile to dress up your cooking and eating spaces to match your desired look and feel and overall design.
Well manufactured tiles will withstand all the bumps and knocks, oils and spills, that are commonplace in kitchen areas. With glaze finishes and waterproofing seals, tiles will withstand the harshest water treatments much better than rustable metal sheets or stain-prone vinyl/plastic coverings.
Unlike glass splashbacks and timber surfaces, tiles made from toughened materials will resist breaking, cracking and chipping when drops and knocks from cups and pots occur.
Using tiles in your new or renovated kitchen will ensure it lasts the test of time to save you money over the life of your kitchen investment.
Whatever your object and setting, kitchen tiles can turn your home and kitchen into a place where all of your family, housemates, tenants and guests want to spend time and be together.
COLOURS AND PATTERNS FOR
Tiles are available in many varied styles, patterns and colours to suit every home and kitchen design. Choose tiles with soft and warm matt palettes for your country or cottage kitchen, to offset hewn timber cupboards and rustic metallic handles and appliances.
Choose rich colourful patterned tiles for old world kitchens featuring Mediterranean / Mexican / Spanish themes and elements. Choose glossy solid dark and bright colours for modern and contemporary minimalist designs that let your fittings and fixtures stand out.
Or choose light and breezy colours and tones to complete a coastal or outdoor kitchen for those summery afternoons.
A professional tiler who has seen every kitchen and tiling option on the market can help you choose your tiles according to both premium design and outstanding quality.
ADD VALUE, QUICKLY, WITH KITCHEN TILES
Even the best tiles will be ruined if they are laid by an inexperienced tradesperson or amateur.
Buyers, developers and investors know that quality tiles can add significant value to your kitchen if they are laid to look their best by a professionally licensed tradesperson. Perfectly installed tiles will cover blemishes in plastering, cabinetry and other surfaces – giving a quick, new, aesthetically pleasing solution.
Tiles are superior to paint and paper wall coverings because they provide a brand-new durable surface to cover blemished walls and floors. Well laid tiles are superior to vinyl and plastic because they cover and seal the lumps and bumps of boards and brick-work underneath.
By resurfacing large flat areas in all aspects of your kitchen, you can make your kitchen look attractive and modern quickly and easily.
Families and designers prefer high quality tiles for kitchen areas because:
they are healthy, non-toxic, cleanable surfaces
they give an immediate aesthetic appeal; and
they are excellent value in terms of return on investment.
Well laid, high quality tiles both conceal and resist cracks, scratches, abrasions, stains, marks, and other blemishes.
Tiles also accentuate fittings and fixtures that make your kitchen unique, providing textual variation and interest to inspire creative cooking and long conversations.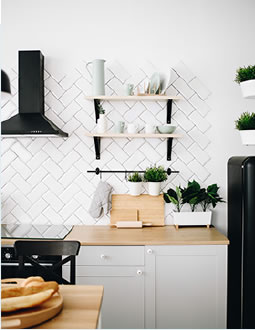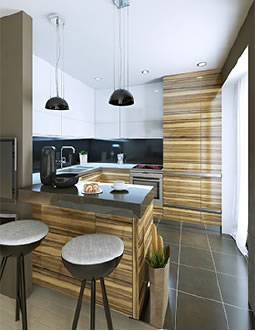 CHOOSING AN EXPERIENCED LICENSED TRADESPERSON TO LAY YOUR KITCHEN TILES
The best professional tilers in Brisbane are always in demand, because good quality workmanship is hard to find.
Whether it's a splash back, floor tiles, or specialist mosaic designs in benchtops and cupboards, here are some tips on how to choose the right tradesperson to lay your kitchen tiles.
Firstly, look for tilers that are duly licensed and ensured. Your kitchen tiler must have completed a Certificate III in Wall and Floor Tiling and hold a Wall and Floor Tiling Licence from the Queensland Building and Construction Commission.
Secondly, choose kitchen tilers that have worked for a long time in trusted tiling firms that service builders, developers, and residential clients alike.
Thirdly, prepare and shortlist of your preferred kitchen tilers and have an onsite interview with each one before requesting quotes on the required tiling
work.
Fourthly, ask for referees and call each referee to check their recommendations and the veracity of the
WHY CHOOSE NRA TILING FOR YOUR BRISBANE KITCHEN?
At NRA Tiling, our tilers are all highly experienced tradespersons and we have done the reference checking for you. Nobody's tiling standards are higher than ours! We demand the very best
workmanship by all of our kitchen tilers, in every home, on every job.
Our Brisbane kitchen tilers will save you time and money by avoiding the costly and expensive amateur tile-laying mistakes. Once tiles are laid, they cannot be re-used, so lay them properly, using a professional, the first time!
Choose NRA Tiling for Brisbane kitchen tilers to make your kitchen bring the best of Queensland into your home and lifestyle.
Nobody's tiling standards are higher than ours!
DON'T WASTE YOUR MONEY INVESTING IN A NEW OR RENOVATED KITCHEN BY HAVING THE WRONG TRADESPERSON INSTALL CROOKED, BUMPY, CHIPPED OR UNEVEN TILES IN THE VERY PLACE WHERE EVERYONE WILL SPEND MOST OF THEIR TIME IN YOUR HOME!!
NRA TILING BRISBANE FAQ's
Tiling is not a complicated trade. But it is a unique skill to tile correctly, ensure it is water tight, ensure that the tiles are perfectly evenly and ensure the surface lasts through years of punishment from foot traffic, spilt drinks and food and of course weather. Don't risk doing it yourself, just call us we are "Exper tilers in Brisbane".