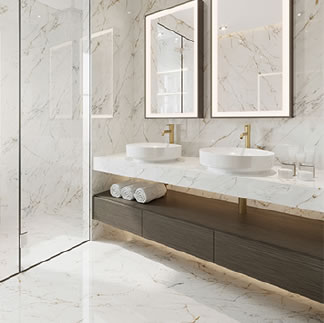 it is vitally important that waterproofing be done properly.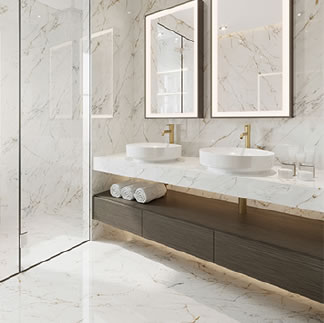 it is vitally important that waterproofing be done properly.
PARTNER WITH EXPERIENCED FLOOR TILERS TO HELP YOU CHOOSE YOUR TILES
Homeowners and amateur renovators often head to the shops to choose their tiles before they start looking for a tiler to help with the laying.
It is easy to see why. Tile suppliers spruik the colours and patterns, styles, and textures of their latest imports in order to sell as much of their stock as quickly as possible. For the "house-proud newbie", the temptation to go in and have a look, and then to buy, can be all too great.
The cost of tiles will be more than half of your flooring investment, so it shouldn't be undertaken lightly. There's a wide variety of tiles to suit every building style and application and only experienced floor tilers can 'see through the cracks' to know which tiles are best for your particular home or workspace. In most cases, they can also get you a better deal on price and quality than whatever you can find at your local tile store.
Aside from the aesthetic and room design considerations, here are some other questions you should also ask:
Should you have ceramic, porcelain, marble, slate, or granite?
Does it matter if a tile is porous or vitrified?
What thickness or size is needed for your flooring?
Will they crack or crumble easily when they are laid, when cups are dropped, when kids walk in from outside?
Will they resist water, staining, or scratching? Are they going into a bathroom, kitchen, lounge room, or bedroom?
Will they be firm underfoot or require an anti-slip coating, mat, or grip?
Will they tolerate underfloor heating, heavy sunlight, cold winters, and hot stormy summers?
Experienced floor tilers who know your home, design specifications, and local climate, can make sure you don't just choose what the tile shop wants to sell, but also get the right tile for your application at the very best price!!
Amateur tilers often think that laying tiles is just a matter of gluing them to the floor. In truth, that's where most mistakes are made! Like painting, most of the work is in the preparation. Professional tilers know that to get a superior finish, you need to prepare (1) the surface, (2) the adhesives, and (3) the tiles and tile positions, before laying begins.
That way, you can be sure to get a result that fits the design specifications and standards of your architects, builders and decorators.
Whether it's wall tiling, outdoor tiling or floor tiling, good preparation will include ensuring:
the floor is flat and level and free of bumps, waves, troughs and knobs;
the floor is clean and appropriately scuffed so that the glues work to their specifications;
enough tiles are purchased to cover the designated floor area, including a buffer for bespoke cutting, artistic features and any breakages;
tiles are cut to their optimal size, shape and position for every space on and around the floor;
tiles are laid straight and in the proper direction to the room or patio;
the spacing between tiles is even and square, with no unexpected rises or points;
feature tiles, grooves and mortices line up with fittings and fixtures to be accentuated by the flooring;
appropriate coatings, edgings and gap fillers are used to ensure tiles are waterproofed, slip proofed and stain proofed where required.
Only a professional tiler can properly assist you in this task. You need the experience of a licensed tiler who has laid countless floors to know how to prepare your floor to get the very best floor tiling result.
Great tradespeople make the most difficult and laborious jobs look so easy to complete!! It's no wonder that amateur onlookers think they can do it themselves.
But truth be known, like a violin virtuoso, it takes years for a professional floor tiler to hone his or her craft. Going one step at a time, carefully, purposefully, the expert floor tiler can move around a flooring space making quick progress without sacrificing any of his or her quality and standards.
A professional floor tiler works efficiently by:
following design plans correctly;
measuring and marking surfaces as tiles are laid; keeping work areas clear of old tiles, adhesive and grout before laying tiles;
applying adhesive to tiles and surfaces before positioning tiles;
using tile cutting tools to get corners and edging flush;
coating tiles with waterproofing and anti-slip products using appropriate techniques.
A professional floor tiler will have completed a Certificate III in Wall and Floor Tiling and hold a Wall and Floor Tiling Licence from the Queensland Building and Construction Commission.
When you invest in high quality floor tiles, you need to invest in the superior workmanship of an experienced and professionally licensed floor tiler to get the best results when the job is done. At NRA Tiling, we have just the tiler for you! Call now to speak with our friendly staff.
THE TAILOR'S SLOGAN "MEASURE TWICE,
CUT ONCE", APPLIES TO TILING TOO!!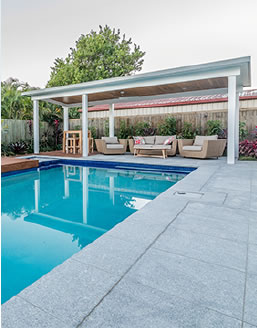 NRA TILING BRISBANE FAQ's
Tiling is not a complicated trade. But it is a unique skill to tile correctly, ensure it is water tight, ensure that the tiles are perfectly evenly and ensure the surface lasts through years of punishment from foot traffic, spilt drinks and food and of course weather. Don't risk doing it yourself, just call us we are "Exper tilers in Brisbane".